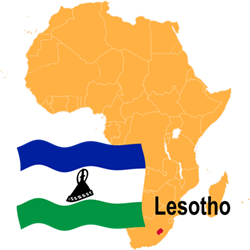 World No Tobacco Day was commemorated on May 31, 2013 in Thaba-Bosiu, Maseru District, under a very timely and relevant theme for Lesotho: "Ban Tobacco Advertising, Promotion and Sponsorship." Tobacco consumption in Lesotho is a major health problem; a recent NCD survey conducted by WHO reported that 50% of men smoke.

To demonstrate that Lesotho does not need to rely on the tobacco industry to run events, the Ministry of Health, with support from the World Health Organisation, organised a sports tournament for the youth of Thaba-Bosiu. Key health promotion messages on the dangers of tobacco use were shared routinely with the crowd throughout the tournament.
Multitudes of school children, teachers and community members began the commemoration of World No Tobacco Day 2013 with a march of solidarity to express their support for a ban. The marchers carried banners and placards, displaying this year's theme, to spread the key message for the day— "Free yourself." The tournament was then opened with health promotion speeches from the Ministry of Health, the World Health Organisation, and Blue Cross. The aim of this mobilisation effort was to make taking up tobacco use more difficult and less rewarding.
[SOURCE: This field note was contributed by: Health Promotion Officer in Lesotho.]